Unlike most of the other sports we are largely fans of here in North America, there are no trades in soccer, players are moved via transfers in which a team will send a player to another in return for cash. Now some of the best players on earth have been transferred for much less than their value, but there have also been some awful transfers that have bit their teams in the butt.
1. Afonso Alves to Middlesbrough
While playing in Dutch soccer, Alves was scoring at a clip never seen before. In fact, he was scoring more than a goal a game. Therefore, it was seen as a great call and a no brainer when Middlesbrough paid $15 Million to bring him in. Unfortunately for them, his production fell off a cliff. He scored only 10 goals in his 42 appearances with the club, which is a far cry from what he did before.
2. Johnathan Woodgate to Real Madrid
This defender truly had one of the worst tenures on his new team in history. Woodgate was brought into Real Madrid for over $15 Million a year and they were hoping he would be an anchor on defense. Unfortunately, injuries derailed his career and he didn't play a single game in his first season with the club. And his eventual first game didn't go so well either as he was subbed off after scoring an own goal. He only made nine appearances for the club in his three years with them.
3. Andy Carroll to Liverpool
This move came out of nowhere and had people scratching their heads right from the beginning. Carroll was a fairly unproven, but talented, striker from Newcastle and on the last day of the transfer window, they paid more for him than any player in their history when they paid around $38 Million for him. He played in 44 games for the club, scoring only six goals and then was moved to another team from the fraction of the cost they paid for him.
4. Robbie Keane to Liverpool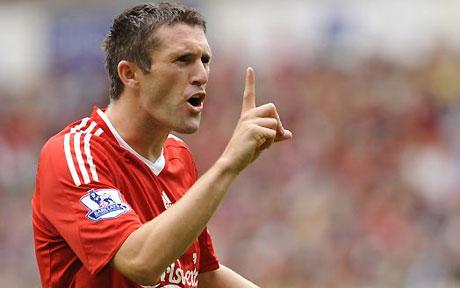 Liverpool appears again on this list for their pick-up of Robbie Keane. Keane has appeared on a variety of teams, achieved moderate success, and then gets transferred for huge sums of money. And this deal was no different. Liverpool paid around $22 Million for the player. Unfortunately, he only played 19 games for Liverpool before being sold back to the team they bought him from, for just over half of what they paid for him.
5. Fernando Torres to Chelsea
After being a goal scoring machine for Liverpool, Chelsea decided to bring Torres in for an astonishing $55 Million. At the time, this broke the British transfer record and was obviously a big investment. But in the end, it didn't pay off. Torrest only scored 20 goals in 110 games with Chelsea, after going off for 65 in 102 games with the aforementioned Liverpool. Simply put, this is the worst transfer in history because of just how much they paid for a player who was past his prime.