Jack Johnson seemed bigger than life after he won the world heavyweight championship in 1908, but that success came from humble beginnings. Born in Galveston, Texas in 1878, Johnson was one of nine children born to his parents who were once slaves. With all his siblings clamoring for attention, he had to fight from an early age to be seen and heard. Over time, this gave Johnson the confidence and drive he needed to excel beyond the laborer life his parents had known and he was destined for. Johnson went to work as a laborer to help support his family at age 10. Much of his childhood was spent working on boats and in Galveston until he left on his own at age 16 to travel to New York looking for work.
It was on this trip that Johnson had his first fight with a fellow longshoreman for the big prize of $1.50. He was a natural, and not long after he won $25 for making it four rounds against professional boxer Bob Thompson. By the early 1900s, Johnson stood an intimidating 6'2″ and was a hulking mass of muscle from his years working hard labor. He was now known as the "Galveston Giant"and created a name for himself in the black boxing circuit. It wouldn't take long for him to earn a title match.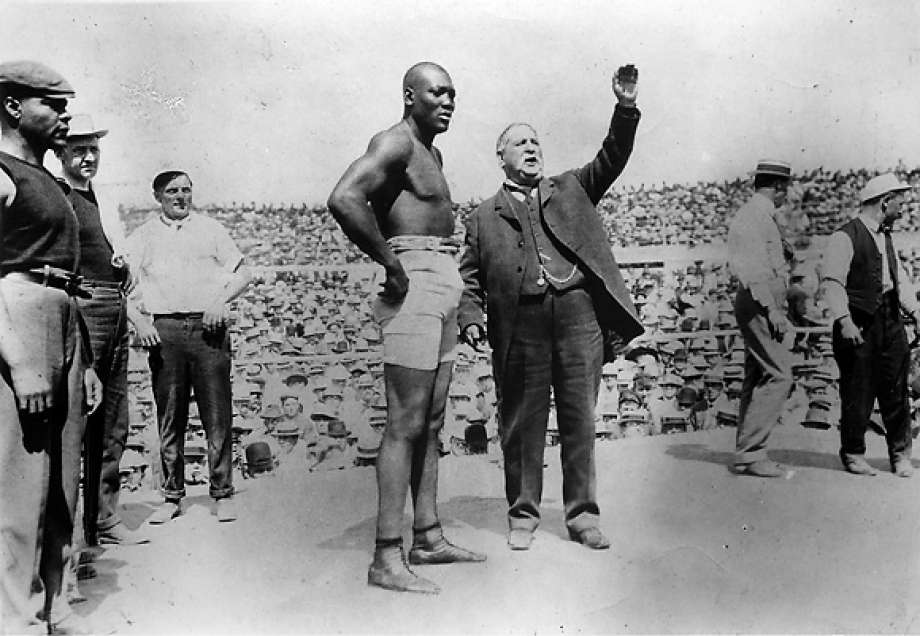 In 1908 he became the first African-American to win the world heavyweight crown defeating Tommy Burns, the reigning world champion. Johnson was a beast in the ring and took to fast living with his new found wealth and success. He remained champion until 1915. But his greatest fight became known as the"Fight of the Century," on July 4, 1910.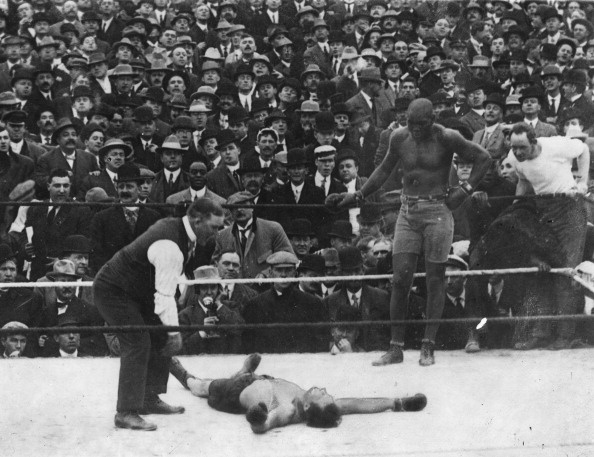 Over 22,000 boxing fans turned out for the bout held against white boxer Jim Jeffries. The 15 round fight was to be held in Reno, Nevada. The vicious battle raged on for all 15 rounds until Johnson came away victorious,angering white boxing fans. That mattered not to Johnson, who with the victory affirmed his dominance over the sport of boxing.
Jeffries said after the fight, "I could never have whipped Johnson at my best. I couldn't have hit him. No, I couldn't have reached him in 1,000 years."
For his victory, Johnson earned a purse of $117,000. It would be five years before he relinquished the heavyweight title, when Johnson fell to Jess Willard in a 26-round bout in Havana, Cuba.
Johnson fought until the age of 50 and later died in an automobile accident in Raleigh, North Carolina in 1946.